Tutorial Repair Hard Disk | Hard Disk Bad Sector
Incidentally yesterday my friend was asked about the hard disk bad sector, I actually wanted to share his software to repair hard disk bad sectors, but what I fear when you use the software just adds damage to your hard disk. so I decided to make this tutorial.
Bad sectors
or bad blocks is the term used to refer to the damaged area on the hard disk. Bad Sector on this hard drive in general there are two kinds, namely physically bad sectors and bad sectors in the software. Physically bad sectors due to the hard drive keruksakan on the plate that could happen because disk exposed to dust, falling hard, hard impact and so on. While the bad sector in software may occur when the hard disk is busy all of a sudden the computer off, for example because of power failure.

Here are the tools that you can use to repair hard disk bad sectors.

1. Using HDD Low Level Format Tool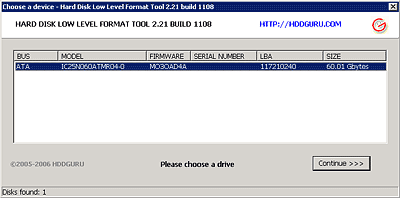 HDD Low Level Format Tool is a utility that serves Tools to delete all information both partitions, the data on your hard disk bad sectors as well as information.
After using these tools Hard disk clean and you will return to normal as before.
Follow the tutorial Using HDD Low Level Format Tool :
- Download HDD Low Level Format program on
here.
or visit this http://hddguru.com/
- Install and run the program HDD Low Level Format tools so that the display appears as below:
- Select the hard drive will be formatted, then click Continue ..
- Click the tab LOW-LEVEL FORMAT, click FORMAT THIS DEVICE
- Wait until the finish, and normally the process will take a while so please take a considerable time.
In addition to the hard drive (SATA, IDE or SCSI), HDD Low Level Format Tool may also format the stick, flash cards and the like
2. Using the Bad Block Recovery Softwares from hard drive vendors
The following tools-tools for analysis and maintenance of hard drive:
1. Fujitsu IDE Low-level Format Utility
Download
here
2. Seagate's Seatools for Windows and Seagate's Seatools for DOS
Download
www.seagate.com.
3. Western Digital Data Lifeguard Diagnostics
Download
Here
Hopefully Tutorial Hard Disk Bad Sector Repair This is useful for you
Tutorial Repair Hard Disk | Hard Disk Bad Sector